Tapping into Asia's rapidly growing Internet Economy with Web Optimization and Internet Security
More than half of the 2.3 billion population of Southeast Asia and China now uses the internet with the numbers having grown 30% in the past year alone, according to the London-based We Are Social digital research agency.
Mobile internet use penetration stands at roughly half of the population and appears to be driving much of this growth. However, tapping into this market can be difficult with regulatory requirements, malicious attacks and Internet infrastructure challenges. To help customers overcome these challenges and easily provide content (especially video) fast, securely, and reliably to their target audience, to any device, formatted appropriately and to get valuable insight into usage, NetDataVault, has seamlessly extended its global web performance optimization and security network services into Asia and China as a federation partner to Asia's Largest CDN network with over 700 Million Active subscribers. Being part of Asia's Largest CDN Federation ensures you are backed up by the world's largest and best Tier-1 Services Providers.
NetDataVault CDN is part of the SwiftServe CDN Federation with PoPs and access to over 700 million subscribers in Asia. Cedexis results prove that the NetDataVault / SwiftServer CDN is the Best Performing CDN services in Southeast Asia.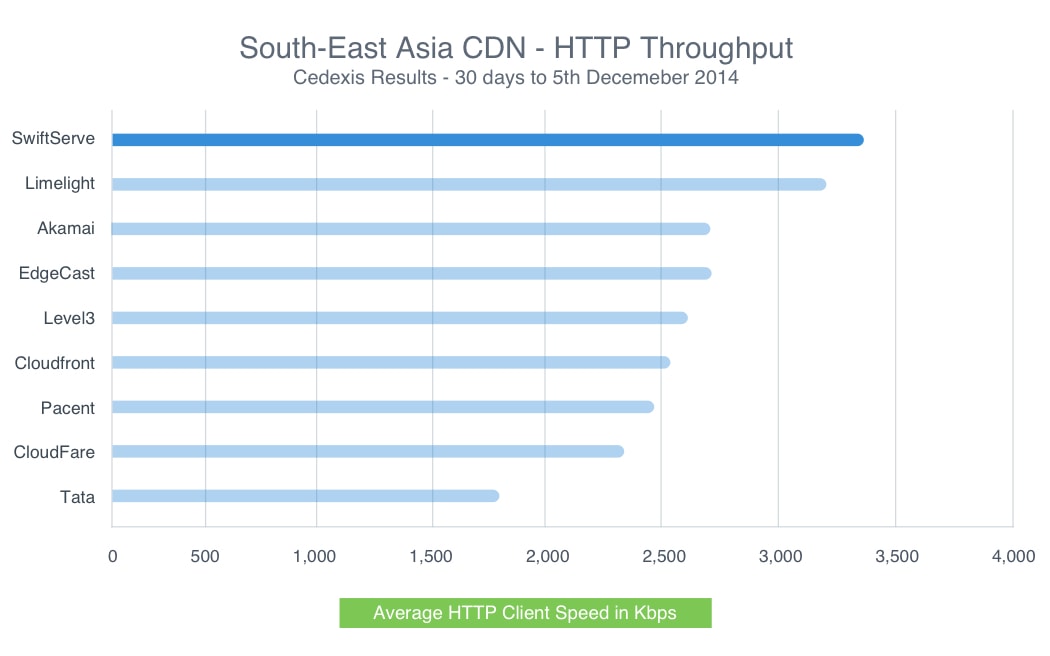 Frequency and patterns of use in Asia
More and more people in Asia-Pacific are expected to access the Internet on their mobile devices. Evidence to support this is emerging in certain market segments. Overall, 47% of those surveyed use a mobile device as their primary means of going online. This figure is higher among respondents below 25 years old (61%), and those who live in Southeast Asia (52%), and much lower among those who live in developed economies in the region (38%). Regardless of its preponderance, the mobile Internet is becoming a familiar presence in people's daily lives. Ninety seven percent of those surveyed access the Internet through their mobile device regularly, with 90% doing so every day, and 7% several times a week. Only 2.5% of respondents use the Internet on their mobile device less than twice a week.
Everyday mobile Internet usage is higher among tablet owners (95%) and those who owned wearable devices (96%), as well as those from advanced economies (95%). It is worth noting however that 88% of those who go online less than twice a week on their mobile devices also did not have mobile as their primary Internet access device, suggesting that respondents who use mobile Internet infrequently may be going online through other means.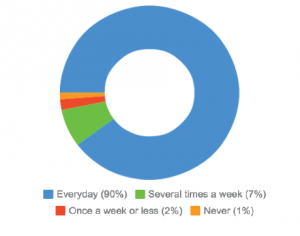 Activities and uses in Asia
A large proportion use their mobile device for online banking and bills payment (49%), and to access e-education materials and e-learning platforms (44%). Over a third also play online games on their mobile device (37%) and buy or sell goods and services (36%). Less than a third use it to access government and social services online (32%), and to look for jobs (29%).
The findings indicate that younger people tend use mobile Internet more than their older cohorts for bandwidth-heavy activities like video and music streaming or downloading, and online games. Additionally, respondents 24 years old or below were accessing online education platform and materials (61%), as well as job listings (40%), much more than those 45 years old or older (41% and 17%, respectively). There are other segments that stand out. Those in developed economies tend to use mobile Internet more to search for information (91%), read the news (79%) and access videos and music online (69%).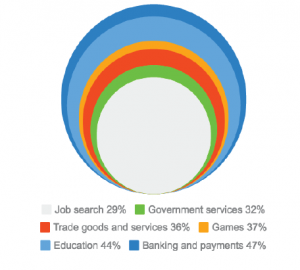 The Challenge
Today's opportunities for online investment in Asia and particularly China cannot be questioned. However, the rising fortunes of China's e-commerce sector are not reflected in the quality of its internet; a fact that any foreign firm with a presence on the ground here will undoubtedly be aware. There are numerous problems with China's internet that can either hinder or outright prevent various business operations, including digital marketing and data communication, and thus limit how effective a China operation can be.
Many companies put servers close to mainland China, in South Korea or Hong Kong, and it was found that any server, however nearby, that remains outside mainland China's firewall is subject to the roadblocks and speed bumps the firewall creates. And that often results in poor performance. If you want to do business in China, you must place your infrastructure inside mainland China. That will put you within the boundary of the firewall's technical filtering . So for optimal performance you need to extend the in-China server mandate and select NetDataVault's in-China CDN PoPs.
Security is also a major concern in Asia and China as websites see a constant barrage of attacks. Not only have large botnet attacks been seen coming from China, but over 50% of the world's Distributed Denial of Service (DDoS) attacks target China, South Korea and US. Furthermore, these DDoS attacks are on the rise, making Asia's Internet increasingly more unreliable for websites without protection. These security concerns, combined with performance challenges, mean finding the proper web performance optimization and security provider in Asia is essential to delivering a reliable, high performing online service for your customers.
NetDataVault in Asia & China
While the CDNs are very established in North America and Europe, the market is just emerging in most parts of Asia and is still very fragmented. The CDN players from other regions do not have a large presence in Asia: most derive less than 10% of their revenue from Asia. In fact, many CDN providers deliver into Asia via points of presence on America's West Coast, as their network presence in the region is still relatively small.
There is no doubt however that the region is very different to both North America and Europe, in terms of the potential audience for content, the type of content consumed, the network conditions and the competitive environment; most notably:
Asia is far larger geographically and more populous
Languages and culture are much less homogenous than North America
Content consumption is less dominated by a few Content Publishers in Asia than there are in North America
Bandwidth costs are comparatively high in Asia, especially between countries
There are far fewer operators (ISPs) than in North America or Europe
Hence the conditions that CDN players were able to leverage successfully in North America and Europe, do not apply in Asia. For that reason, the market is potentially a much more level playing field. As a result, Network Service Providers in Asia, who know the region and have a dominant network presence in their respective countries, are in a strong position to become major CDN players in their region. NetDataVault's partnership with SwiftServe for Asia, China, Middle East, Africa, Europe and USA, makes it part of Asia's largest CDN federation. The SwiftServe CDN Federation enables operators to collaborate with each other to create the largest and most comprehensive CDN not only in their country but also in their region and beyond. This unique value proposition enables Network Service Providers to participate directly and actively in the content value chain overcoming all challenges in each of these countries.
Revolutionize your end user experience with NDV Content Delivery Services
Live Streaming – Latency Free, Carrier –Grade Content (Video) Delivery anywhere, anytime to any device formatted appropriately.
Video on Demand – Visibly enhance Quality of Experience for your target audience wherever it may be with best quality and multi-platform video.
Web Acceleration- Guarantee Lightening fast webpage load time and responsiveness to keep your visitors glued – Highly recommended for eCommerce players.
Online Software Delivery – Make Large, fast, reliable downloads available to end-users no matter how large the file and wherever the user is located.
End to End OTT Video Platform – Integrated and modular end-to-end digital media enablement to deliver high quality media experience anytime, anywhere and for any devices.
Access Control & Security
Geo Block – Restrict the distribution of content to customer defined geographies
IP access control – Restrict or allow access based on customer defined IP ranges.
Token authentication – Restrict content access to end-users who have received a time-limited 'token' generated by the customers website.
Obfuscation – NDV CDN minimizes exposure of customer origins to clients to reduce attack vectors and help to ensure continuity of site delivery.
Cloud CDN Services and Offering
NDV's Content Delivery Network – Storage and Delivery is designed to deliver multi-media content swiftly, securely and reliably to end-users across the globe. Specific customized solutions can be delivered based on requirements:
CDN as a subscribed service
Hybrid CDN (Private + Public)
Private CDN deployment
Conclusion
Recah out to NDV today to boost your online business today! Ensure that the largest web population on the planet has quick, secure, and reliable access to your company's online content without sacrificing the integrity of data or worrying about the safety of your site.
Refrences
Mobile internet usage trends in Asia – internetsociety.org, asiabriefing.com, gigaom.com/2014/09/27/cracking-the-performance-code-of-the-great-firewall-of-https://securelist.com/analysis/quarterly-malware-reports/74550/kaspersky-ddos-intelligence-report-for-q1-2016/